Willapa National Wildlife Refuge is located on Willapa Bay, one of the most pristine estuaries in the United States .Willapa Bay is the second largest estuary on the Pacific Coast and includes over 260 square miles of water surface.The refuge was established in 1937 to protect migrating and wintering populations of brant, waterfowl, shorebirds, and other migratory birds. The refuge was established at a time when many estuaries were rapidly being destroyed by diking, draining, dredging, sedimentation, and pollution.

The refuge preserves a number of unique ecosystems including diverse salt marshes, rich tideflats, rain-drenched old growth forest, and dynamic coastal dunes
and beaches.
Visitors to the refuge can enjoy viewing a wide variety of wildlife, from spawning salmon in the refuge's numerous streams, to Roosevelt elk on Long Island, to the tens of thousands of migrating shorebirds that crowd the beaches at Leadbetter Point.

Check out the NEW Willapa NWR Planning Update 1, March 2008
U.S. Fish & Wildlife Service - Pacific Region
Willapa National Wildlife Refuge
Reminder: Collection of plants, animals, and artifacts including mushrooms is prohibited on national wildlife refuges.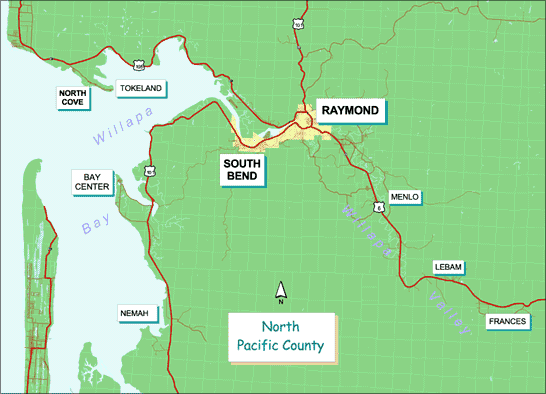 WILLAPA VALLEY
The area known as Willapa Valley is located on Highway 6, about five miles east of Raymond. Primarily an agricultural area, Willapa Valley is the location of the Willie Keil Historical Site. The Willapa River, named for the Whilapah Indians, winds through the valley.
A little bit of history
The area was first settled in 1852 by Samuel Woodard who took a donation land claim of 640 acres. For many years, this location was known as Woodard's Landing and served as the port for the large boats that came in from Portland to discharge cargo and mail. When logging began in the 1870s, the area began to grow. The name was changed to Willapa in 1884. The numerous waterways throughout the planning area were the only means of transportation for mail and cargo and were essential to development. The community of Willapa was the hub of the Willapa Valley. Boats came in three times a week to discharge cargo, mail, and passengers, and two large warehouses held supplies for the valley. Sidewalks were constructed along the main streets and roads were planked where needed. As Willapa boomed, houses sprung up everywhere, and by 1887 the community provided hotels, drug stores, a real estate office, and a barbershop. By 1900, the business center and moved to South Bend and Raymond. Today, the historic mixed-use districts of Menlo, Lebam, and Frances still provide residents with a pleasant place to live.
(Business Guide)

Excerpts from Meandering Blog

Back on our route again we saw the street sculptures in Raymond. These are two-dimensional life-sized metal cut-outs of animals and people placed along the road leading into town and along the streets of the town. Some of the animals were in natural settings where you might expect to find the real thing. The people and family groups are shown carrying out everyday life activities.



Seen along the way in a nearby on route 101: "The Loose Caboose", a diner in an old red train caboose.

In an area with forest on both sides of the highway a coyote ran across the road in front of us, startling us both. It appeared, dashed across the road, and vanished into the undergrowth in what seemed an instant.

---

Birdwatching: Willapa National Wildlife Refuge

Location: Pacific County on south side of Willapa Bay, off Highway 101.

Habitat: U.S. Fish and Wildlife site, saltwater and freshwater marshes by Willapa Bay, hillside of deciduous and conifer forest.

Best season for birding: Good year-round.

Birds commonly seen: Water birds rule the roost! Freshwater marsh birds include common mergansers, canvasbacks and northern shovelers. Spring brings killdeer, lesser and greater yellowlegs, and spotted sandpipers, plus tree, northern rough-winged, violet-green, and barn swallows. Forest harbors common ravens, barred owls, band-tailed pigeons, spotted towhees and Steller's jays.

Viewing: Walk left up a half-mile hillside trail or down to 2-mile trail along dike to check ponds. Scope mudflats at low tide for spring shorebirds.

Getting there: From Highway 101 at Milepost 18.6, turn west onto Jeldness Road. Drive 1.2 miles to Lewis Unit parking area.

Source: Audubon Washington, Great Washington State Birding Trail maps.


Published by SwanDeer Productions
Arthur and Lietta Ruger, Bay Center, Willapa Bay in Pacific County Washington

Willapa Magazine ©2007 is an internet journal based in Bay Center, Washington. The opinions expressed by Arthur or Lietta Ruger are the writers' own. Willapa Magazine recognizes Fair Use law and publishes original writings in their entirety based on 'fair use' of any such copyrighted material as provided for in section 107 of the US Copyright Law. Willapa Magazine Permission of author(s) ia required for reprinting original Willapa Magazine writings and the original author(s) for material posted under fair use law.