Interviews with Lietta Ruger speaking on war in Iraq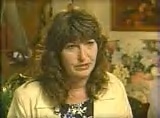 Newshour with Jim Lehrer; 'Homefront Battle'
Lietta Ruger,Military Families Speak Out, speaking as lay preacher at St John's Episcopal Church, gives sermon at her church challenging the President's war policy in Iraq.
aired Oct 4, 2004, audio, video,transcript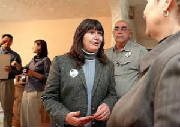 Seattle Times; Courting military families, meeting with Representative Sandra Romero.
Lietta Ruger among the members of Military Families Speak Out meeting with Representative Sandra Romero., published Seattle Times Oct 18, 2004.
The Episcopal Voice magazine; Leap of Faith; March 2005 (pdf)
Excerpt; St. John's, South Bend, parishioner, Lietta Ruger, a member of Military Families Speak Out, was interviewed by Jim Lehrer for his PBS program NewsHour. The program included a segment from a church service where Ruger, who is in training as part of the new Total Ministry team at St. John's, preached a sermon against the war. Ruger commented, "I do not think at this time that our church is dealing realistically with the facts of the war in Iraq or its impact
on military families who carry the burdens in an almost isolationist atmosphere. I would like to see the Episcopal Church take a more proactive approach on the national and global stage to call for an end to this war."
The Olympian: Fort Lewis soldier's family urges Gregoire to oppose deployment
delegation of military families presents Resolution compelling Wasington Governor Gregoire to call home the Washington National Guard. published March, 09, 2005.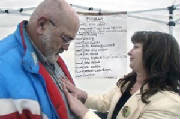 Seattle Times; Thousands Rally to Protest Iraq War,
Lietta and Arthur Ruger, representing Military Families Speak Out are among the invited guest speakers at Seattle protest rally on 2nd anniversary of Iraq war. published March 20, 2005
Seattle Weekly; Closing the Credibility Gap
article by Geov Parrish, published March 23, 2005
Excerpt; But the White House does care, very much, when members of the military and of military families start speaking out. By far the most powerful speaker at Saturday's rally was a Pacific County woman, Lietta Ruger, who has a son-in-law and nephew about to serve their second tours of duty in Iraq. Hers is a military family; she is middle-aged, patriotic, and able to cast the risks and costs of Iraq in starkly personal terms. In a word, she has credibility that those of us without personal links to the struggle in Iraq do not have.
Working for Change; article; 'The Road Home'
Working for Change; Terri, the war, and more.
Lietta Ruger, Military Families Speak Out, referenced in articles by Geov Parrish, March 21, 2005 and March 31, 2005
WashBlog 'You should not let someone else define patriotism for you'
(A thank you to Brian Moran of
Washblog
who has been a strong early and steady supporter. Lietta)
Excerpt from March 21, 2005;
"You should not let someone else define patriotism for you"
From the Sunday Seattle Times, Lietta Ruger and her husband were featured in an article on the March 19th anti-war rally in Seattle.
Portland Indy Media; Military family to speak out in Bend against the war.
Text excerpt; Military Family Will Speak in Opposition to Iraqi War
Saturday, March 26,
At 'What are the Costs of War?' conference at COCC in Bend
Lietta and Arthur Ruger are military through and through. Lietta was raised on a U.S. military base. Arthur is a Vietnam veteran. Their son-in-law and a nephew are soon to be redeployed to Iraq. The Rugers are proud of their family's military service, but opposed to the war. They've preached against the war in St. John's Episcopal Church in South Bend, WA, and spoken up about the war on Jim Lehrer's PBS show "The NewsHour," and at last Saturday's peace march in Seattle.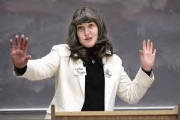 Bend Bulletin; Peace promoters object to human cost of Iraq war.
published March 27, 2005, Bend Bulletin, Bend, Oregon
Excerpt; Washington resident and featured speaker Lietta Ruger, however, focused on the loss of life. According to The Associated Press, 1,520 troops have died in Iraq since the beginning of the war.
Ruger herself has a son-in-law and a nephew who are deployed in Iraq.
"We need to get out, we need to get our kids safe," she said. "There is no argument (for the war) that has any value when you look at the human cost."
Ruger said she and her husband, Arthur, are members of the regional chapter of Military Families Speak Out, a nationwide organization of families that have loved ones in Iraq and are opposed to the war.
Arthur Ruger, who served in the Air Force in Vietnam, said every day is a trial for the families of service members.
"If your community has parents with sons, daughters, husbands in Iraq — talk to them. Help them out. Buck them up," he said.
Holding the U.S. government accountable for a costly, messy war, Arthur Ruger said, "(is) my duty to my son (and) to your son and daughter."

Portland Indy Media; The Costs of War.
published March 26, 2005
Excerpt; A Symposium in Bend
What are the Costs of War? (Bend, Oregon)
A series of lectures and discussions were held today in Bend over the various aspects of the costs of war.
When I arrived at about 3 PM Ms. Lietta Ruger was speaking. Both her son-in-law and her nephew are due to be redeployed in Iraq.
The Daily Evergreen, WSU; Group looks to bring National Guard home
published April 3, 2005
Excerpts;
The organization, called Washington Military Families Speak Out (WMFSO) is the local branch of the larger MFSO that is working to bring National Guard troops home in other parts of the Northwest in coordination with the efforts to help with the fire season.
According to their Web site, the members of the group have family members involved in Iraq, including ones that were part of the Ft. Lewis group that was attacked in December. Lietta Ruger, a senior member of the Pacific Northwest MFSO, says all of the National Guard is needed at home.
"We have National Guard activated to a point that is beyond normal, and we have needs at the state level," Ruger said. "The concerns go above and beyond politics."
The group has brought a resolution, which is available online, to the Governor's office with hopes to form a continuing conversation and a formation of a task force to help. The most important part of this process is citizen involvement Ruger said, and this is what the group is working toward at this time.
"We are optimistic and hopeful that the citizens will respond to the states needs," Ruger said. "It's not just a military family concern, it is a state voter constituency concern."
NPR, KPLU 88.5; National Guardsman Challenges 'Stop-Loss' Policy;
aired April 6, 2005; audio and transcript at link. Lietta Ruger, Military Families Speak Out comments on the occasion of Hearings by 9th District Court, in Seattle at UW, on matter of Stop Loss of Natl Guardsman Emilio Santiago.
The Source, Bend,OR, Article 'Supporting the Troops, A Conversation with Lietta and Arthur Ruger'
By H. Bruce Miller
(NOTE: Lietta and Arthur Ruger of Bay Center, WA, have a son-in-law and nephew on military duty in Iraq and are active with the Pacific Northwest chapter of Military Families Speak Out, a nationwide anti-war group of Americans with relatives in the armed forces. Lietta Ruger spoke at an anti-war conference in Bend March 28. Before doing so, she and her husband, an Air Force veteran of Vietnam, were interviewed by Source Weekly News Editor H. Bruce Miller. The following is an edited transcript of that interview.)
GI Special carries several reports from Lietta Ruger in their daily issued newsletter