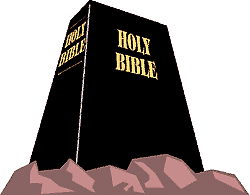 Why I believe the bible is not the inerrant and absolute word of God written by men through his inspiration
(1) My study of how the books of the Bible were written, the process of inclusion and exclusion of specific books in both the Old and Testaments reflect the actions of mere mortals endeavoring to express their understanding and perception of God.
For example, a short bit of research will lead to experts on Hebrew writing forms that will illustrate that Genesis in its phrased and structural form is in fact a hymn to God and not a literal recitation of the specific acts of God.
Prophetic books written by "prophets" were not issued compiled singly or as a collection with a forward by God declaring the innerant definition of what was written. Were that true, those writings would not contain warnings and statement replete with explanations of choices to be made with proposals of alternative outcomes at the hands of God.
That's why, for example, Abraham could talk God into backing down on destruction of a city by continually lowering the number of righteous men to be found there.
Books left out of both the O.T. and N.T. reflect a rejection of writings not in harmony with specific partisan theological priorities.
The quality of some of those rejected writings is tremendous and nowhere will you find any writing by any of the early fathers that defends what was included and what was excluded without a justification of the growing Catholic orthodoxy.
(2) After having come to love scripture under the controlling tutelage and programming of one specific church, it was my on-going bible study which began to illuminate conflicts in doctrines and other absolutes adamantly proclaimed by that specific church as innerant and divine. Followed by encountering the same transparent inconsistencies in all Christian churches.
(3) The inclusion of historical knowledge as to the politics, economy and social evolution surrounding the rise of the Catholic Christianity which survived Roman persecution, endured Roman domination and ultimately outlive the Roman Empire itself - only to fall into the same power traps that empires fall into.
Subsequently the vicars of Christ tacitly endorsed, encouraged and ordered persecutions of Christian heretics in exactly the same arbitrary manner as their earlier Roman Persecutors who had influenced not only what N.T. books were included and why, but who got labeled heretics and who did not. All this long after the time of the historical Hebrews.
And as I have written elsewhere, the Protestant Reformation - in which protestors literally yanked the bible from out of Cathlicisms controlling hands and read it for themselves - formed alternatives to Catholicism founded mostly on the same evolved doctrines that came into being under Catholicism. They reformed but insisted on retaining an acceptance of what the Catholics had told them the bible was - in effect accepting the lie that a polluted and redacted scripture was in fact the inerrant WORD of God not to be interpreted in any other "private" way.
These are spiritual, intellectual and academic reasons for my not accepting the bible as an inerrant word of God that somehow survived all the tampering, manipulation and redaction of scripture and somehow came through millenia unscathed.
That the bible contains the mind of God as conveyed spiritually through a reading of scripture with a sincere heart and real intent is what matters to me.
That the bible contains the not-to-be-tampered-with and traditional commonly and privately accepted interpretations that brook no deviance is not something I believe.
Nor do I believe God expects me to use the bible in such a limited fashion.
a religious addict with an addiction to the book
I said it started out with God speaking to the Patriarchs, but as things went on, the written word was replacing that system - Yoday we have the written word, and the guidance of the Holy Spirit.
I would also say that all who have that view obviously ignore, refuse to admit or are ignorant that such a view is based on a monstrous assumption. And it is only assumption ... an assumption I refuse to make because in my meager life efforts, I have encountered no proof that the assumption is valid.
I have encountered proof that valuable spiritual content in all scriptures of all spiritual paths are confirmable with the guidance of a holy spirit - but not in any formulaic or dogmatic way.
A willful refusal to step outside the single book is, as I have stated many times before, an example of lazy literalist thinking.
It comes down to being a religious addict with an addiction to the book.
As a professional social worker, I cannot avoid constant interaction with addicts of all kinds. Conversations with drug and alcohol addicts about their addictive behavior is exactly the same as conversations with bible addicts.
Biblical idolatry today is the same as the scriptural idolatry state-of-affairs with which Jesus had to deal.
---
---
not in the manner of a human puppet who assumes that he only moves because God pulls the strings
Over my lifetime I came to understand that epiphany, illumination and flashes of inspiration lead to a greater sense and awareness of prompting and guidance - not in the manner of a human puppet who assumes that he only moves because God pulls the strings - but in a manner of coming to know and understand that the kingdom of God is within.

The kingdom of God within is a beautiful and fully illuminated place where there is constant opportunity to know one's self more completely, a constant opportunity for enhanced personal insight and wisdom, and most importantly, the on-going reality of God.

The kingdom of God within each of us is a place where we can see clearly through the window pane, because, as Watts expressed it, we are not too busy painting on the clear crystal pictures of what we think or what other mortals have told us is inside.
What we get today from literalists is essentially reduced to this one simplicity: all form and no substance
Marcus Borg has written some excellent books on Christianity, Jesus, the Bible and other topics - all of which annoy literalist and less liberal Christians who see Scripture and Religion as rigid and inflexible expressions of a monarchical God. If you go to my library (link from the topic page) you'll find at least two of his books.

With that point of view, you are always likely to encounter value judgments in which you are considered to be denying the faith. It's part of the sense of the absolute that supposedly reduces and simplifies spiritual living to formula.

In reality what happens is the formula basically proposes obedience as the prime essence of spirituality. Elements such as spiritual guidance, prompting, genuine spontaneous acts of compassion and doing good for the sake of goodness are relegated to a secondary status.

Whenever you write or speak on the subject, the main objection/rejection comes from those who've internallized the notion that if it's not in the Bible it is not valid. This then does the opposite of what is supposed to be the simplest formula. By insisting on obedience laced with faith and trust, we have ended up with an array of "pretty impressive minds like Augustine, Luther, Calvin, John Wesley, and Karl Barth," and hundreds of others who have had to expound complicated theologies to justify the simple concept of obedience. The why's and wherefore's go on endlessly.

We've had 2,000 years to lock the original artificial description given by Roman Christians and it's a hard habit to break. We have no proof that Jesus formally taught the doctrines or created any rituals that have come out of Catholicism or the Protestant reformation afterward. All of that is the result of "pretty impressive minds" trying to reconcile an original false notion.

It's an awkward place. The birth of traditional Christian doctrines came from 1st and 2nd century non-prophet expounders of how they - mere mortals - defined Jesus' teachings and morphed them into a formal dogmatic belief system. Today, those who resist liberal ideas that do not support biblical idolatry make of themselves critics of the very process that created that idolatry and complex theology in the first place.

Jesus, unlike "pretty impressive minds like Augustine, Luther, Calvin, John Wesley, and Karl Barth," taught a very simple practice for life: The God of Compassion and the inner presence of God in each individual. Jesus as the Son of God born a mortal is the simplest and yet most profound epiphany one can imagine: God appearing to mortals as a mortal and revealing that "you came from the same place as I. My Father and I are one - and so are you."

Only an imperial, monarchical and remote God who sits apart from humanity but communicates from a distance fits the traditional formal Christian vision of reality. The heirs of Rome bought into that. The Protestant reformers and their heirs bought into that. That kind of God is like a mechanic who only maintains and repairs an automobile engine by working through the tail pipe.

What we get today from literalists is essentially reduced to this one simplicity: all form and no substance.
I Do take that passage literal
But, posing the question in a way that makes one's beliefs about the Bible a matter of truth creates a narrow version of the Bible and its value.
Portraying disagreement that the bible is inerrant as a desire to reject and declare the bible void is a debating tactic designed to "win" the argument.
What of deductive reasoning, deep thought and being lead by the Spirit?
These are the starting points and with a sincere desire for understanding, one can exercise Paul's gifts - given by the spirit- of the word of wisdom and the word of knowledge.
I view the bible as an opportunity for a conversation with God. If I lack a willingness or am afraid to use deductive reasoning, deep thought and to ask the spirit to lead me; if I'm looking merely for absolute commandments with no desire other than a formula, I'm interrupting God's conversation with me and limiting Him to the literality of a verse.
It has been said by some that God needs no defenders and that the idea that God does not have to justify Himself is unreasonable ... that it is rude, faithless and blashpemy to ask God to justify or clarify something in the bible or something someone has said that God has commanded.
But I say that this whole notion is only a notion, that God is approachable - willing, in fact - to give more to all who will ask, seek and knock.
I Do take that passage literal.
"Ask and it shall be given Seek and you shall find. Knock and it shall be opened unto you."
By taking that passage literal, I discover that it's okay with God if I approach scripture with deductive reasoning, deep thought and the knowledge that I'm being led by the spirit.
a self-limiting exposure to all that the Bible has to offer
Part of the acceptance of the Bible as literal and innerant is an inheritance from what common folks in the middle ages were taught by the Catholic priests. This was prior to the printing press when the Bible became more available to those who wanted to read it for themselves.
Until the Bible became more available, the priesthood used the Bible as leverage, presenting it as literally true and inerrant and then citing passages from it to invoke fear, shame and guilt. For those who had no Bible to read for themselves, the behavior of a self-serving priesthood to maintain control by such leverage was a primary tool of dominance.
"God says in the Bible that ........ , so you'd better do what I say."
Those early pre-printing-press religious writers are known to have edited and altered what ultimately came to be the New Testament as we have it today.
In some instances even today, the strongest fundamentalist literalists have little to say about this process of redaction that resulted in a scripture that contains only what those early Catholic scholars wanted us to know - doctrines and stories that supported Catholic theology and doctrine.
Fundamentalist literalism has built its own altered version of Christian theology that differs from the traditional Catholic inheritance.
The irony is, that they have constructed something from a source that was originally remodeled itself.
I'm not saying that the Bible is an invalid scripture, but that restricting one's self to mere literal interpretation and popular tradition around the myth of an innerant Bible is literally that - a self-limiting exposure to all that the Bible has to offer.
stuck in that 19th century place
When all is said and done, legalizing or "illegalizing" a relationship between two people as a basis for discrimination around the distribution of personal assets and entitlements most assuredly falls under the category of "state" as in separation of "church and state."

We act in an arrogant ignorance when our assumptions base themselves on our dominant spiritual society's unconscious collaboration to consider a myth an absolutely inerrant truth.

Such is the case with fundamentalist and conservative "opinionizing" against change based on being deeply founded and enmeshed inside the literalist box.

In this regard, all one needs to do is survey the posts on any religious (particularly Christian) message board to see who writes from a place inside the box, inside-but-trying-to-think-outside the box, or actually outside the box.

Arguments against same sex marriage that somehow draw authority on a traditional assumption about what God said, what God meant and an absolutely literal inerrancy of the legalistic view of scripture are arguments that originate from inside a box that for the most part has it's foundation deep in the 19th century literalism. That particular literalism was, at the time, the most advanced and progressive approach to moving Christian living into the modernity of that 19th century time.

(For a fascinating survey of the variety of common-folk approaches to Christian spirituality I recommend James' THE VARIETIES OF RELIGIOUS EXPERIENCE -written from a place in time much closer to the 19th century than we are today)

Many of us remain stuck in that 19th century place and you can see it in the discussions. A lot of the contrariness to new ideas, thoughts or approaches advocating some sort of change that implies concepts "revolutionary", "radical", or "modern" is expressed in posts that appeal to that silent conspiracy to consider a myth as a truth.

In most cases, we see a basically fundamentalist and Christian traditionalist view that repeatedly falls back on verse-quoting or "tradition" that underlies the long term foundation of "old time religion" (again based in the 19th century). It appears that citing a verse somehow justifies an opinion as superior.

Citing from the Bible as the alternative to logical and common-sense reasoning reduces the Bible itself from a living spirit-based document that can be used for a lifetime to a dead volume of nothing more than tradition-generated legal statements ( and old time religious doctrinal assumptions) good merely for citing. The blind use scripture in this way, attempting to lead others whom they assume are more blind than they, toward a ditch neither can see.