Returning veterans face new challenges

MICHAEL GILBERT; The News Tribune
Published: November 11th, 2005 02:30 AM

Fresh from a year in Iraq, Staff Sgt. Daniel Garcia and his fellow soldiers went to Boze Elementary School in Tacoma on Thursday to meet students who were their pen pals.

Garcia's unit was among dozens of Fort Lewis troops that have fanned out all week to meet the more than 40 requests for soldiers to appear at Veterans Day events.

"It's great. There's definitely a lot of warmth," said Garcia, 33.

"People around town, at restaurants, they'll say thank you for everything. It feels really good to hear that."

There's a deeper level, though, than cheering kids, balloons and yellow ribbons. Veterans of the urban guerrilla war in Iraq have to cope with difficult things they saw and did in combat.

It's hard to rejoin a family that's been getting along for a year without them.

Guardsmen and reservists rejoin co-workers and bosses who have no idea what they've been through.

"They told us it might take us five to six months before we can actually say we're back in reality," said Garcia, a Stryker brigade soldier who's been home about a month. "Sometimes I just have to take a breath, tell myself you're back in the world, you're not in the war anymore. … I try to take it one day at a time."

A statewide social service network now aims to help them do it. Formed to tackle child abuse, domestic violence and other social service issues, the Washington Family Policy Council is turning its attention to the needs of Washington's new veterans and their families.

Officials are spreading the word through counseling offices, schools, law enforcement, the clergy and other avenues about the readjustment challenges that returning war veterans face.

"Regardless of our opinions about this war, people go overseas, they risk their lives and they come back," said Laura Porter, the council's staff director. "It's my duty to create an environment that is supportive of their health, their safety, their parenting skills."

The council is circulating its 11-page report, "Welcome Home! How to Make a Difference in the Lives of Returning War Zone Veterans." Earlier this month it held a symposium in Vancouver for 100 or social workers from across the state.

The message: Skills that service members used to survive their tours in Iraq and Afghanistan are different than the ones they need to get along back home.

Friends, neighbors and community groups that understand the differences can do a lot to help the returning veterans make a successful transition.

Officials at the state Department of Veterans Affairs say Washington is now home to more than 9,000 Iraq and Afghanistan veterans. But that number is surely low, considering well over 10,000 active-duty soldiers from Fort Lewis have been to war, as have more than 3,500 Washington National Guardsmen.

Whatever the number, social service providers and others around the state need to understand the readjustment issues, Porter and others said.

Officials say they're compiling anecdotal evidence: divorces, cases of domestic violence, children of Iraq war veterans having problems in school, alcohol abuse, erratic driving, reckless behavior.

They said a number of young veterans have died crashing the fast new motorcycles they bought with the tax-free money they earned while deployed.

Soldiers vouch for the part about the driving. In Iraq they don't stop for red lights, they drive down the middle of the highway to avoid bombs at the roadside, and they switch lanes at overpasses to avoid insurgents who might drop a grenade on them. Every other vehicle is a potential suicide bomber.

Driving on the local freeways triggers stressful memories.

"So the question is, when somebody cuts you off, do you honk the horn and raise the middle finger?" asked James Munroe, a U.S. Department of Veterans Affairs clinical director in Boston who spoke at this month's symposium. "It's something to think about."

Experts said people – school counselors or police, for instance – need to learn how to ask questions. But not stupid questions: Did you kill anybody? Did you abuse any prisoners?

"People do ask these questions," Munroe said. "And veterans need to figure out what they're going to tell people."

But he and others said when the right questions are asked, and a veteran is ready to talk, friends, counselors and others need to be prepared to listen.

It's a delicate balance.

Counselors at the University of Washington Tacoma thought it would be a good idea to form a support group for the many students there with loved ones deployed to Iraq and Afghanistan. Although many such students were seeing counselors one-on-one, the group idea went nowhere, said Carol Wood, clinical manager at the UW Tacoma student counseling center.

She attributes that partly to the fact the school is a commuter campus – students come in, go to class and go home. But she said students also told her another reason.

"People are trying their darnedest to hold it all together. They've got kids to raise, responsibilities. They've got to be the strong ones," she said. "There are many who think that talking about how afraid you are doesn't make you the strong one."

Officials said one of the biggest challenges they continue to face is fear of stigmatization. Veterans – especially those still on active-duty – don't seek help because they're afraid of what a mental health label might do to their careers.

Treatment professionals across the country are trying to tone down the mental health associations. Munroe said veterans might be reluctant to talk to a counselor at a mental health clinic; they'll go if it's in family practice.

Munroe said the country goes through a cycle after every war, where people forget about what it does to the men and women who fought it, and their families.

"We have a great chance to do something very different this time around," he said.

Michael Gilbert: 253-597-8921

mike.gilbert@thenewstribune.com

Time of Transition

James Munroe, one of the Veterans Affairs' leading experts on the mental health needs of returning war veterans, says skills that helped a soldier survive in Iraq can lead to frustration and misunderstanding back home. They include:

Safety: Constantly alert for threats, wary of anything out of place or unexpected.

Trust and the enemy: In an urban guerrilla war like Iraq, all civilians are viewed as potential enemy.

Focus on the mission: All effort is devoted to completing the mission, and anything else is a waste of time and energy.

Decision making: The chain of command makes decisions, and orders are carried out without debate or hesitation.

Response tactics: React first, sometimes with overwhelming force.

Emotional control: Keep emotions in check to cope with difficult circumstances, avoid being seen as weak.

Veterans Affairs hits milestone

This Veterans Day is extra special at the Veterans Affairs Department because the agency is marking its 75th anniversary. It's one of the largest federal agencies, with 237,000 employees, and it's played a key role in every administration since President Herbert Hoover signed an executive order setting up the VA in 1930.

More than a fifth of the nation's population – about 63 million people – are potentially eligible for VA benefits and services because they are military veterans, family members or survivors of veterans.

In addition to providing educational benefits, home loans and disability compensation, the VA operates the nation's largest hospital system. The VA provides health care for 5.2 million veterans and operates 157 hospitals and more than 850 clinics.
Lowell Mass. Sun.com
11/11/05
How will we treat a new generation of soldiers?

By DAVID PERRY, Sun Staff
This morning, mostly old men will gather in dank halls over breakfast to celebrate their shared legacy as veterans and to remember their brothers in arms who never made it home.
They will wear caps, then remove them as they stand at all the attention they can muster to salute flag and country. They will sip coffee, eat plates of eggs, crisp bacon and limp toast, and listen to speeches celebrating their heroism.
In Iraq this morning, a new generation of men and women undergo an uneasy, sand-blown baptism of war, in the sights of a terrorist enemy.
No matter what the war or its politics, there are men and women who will fight to preserve the freedoms the rest enjoy at home.
They leave friends, families and personal feelings about the politics of war behind. They risk all.
When they come home, they can hope for the best, but not always find it.
How much can a nation ask of a citizen, and what price his service?
"I don't think the system is ever as good as we expect it to be, or what it should be," says Kevin O'Connor, Tyngsboro's veterans agent. "But it is healthy and getting better."
"We don't treat (our vets) well," says Joseph Dussault, the 71-year-old veterans agent for Lowell. "When you go in, you're a number and when you come out, you're a number that can be removed by the people in charge."
Dussault recalls that in the summer of 2004, he sat among many in Cincinnati and listened to President Bush tell the crowd of veterans he would increase funding for the Department of Veterans Affairs. Dussault says he spent several minutes speaking with then-VA director Anthony Principi, who echoed Bush's remarks.
"Then (Principi) quits his job, the president appoints an new guy and the old guy gets a new job. Doing what? Going around the country closing military bases. And now they're cutting the budget on the VA.
"Go down to Walter Reed Hospital in Bethesda and ask the kids who are amputees if they're given enough."
The House Budget Committee soon begins debate to cut 2 percent, or $600 million, from the VA budget. U.S. Rep. Marty Meehan of Lowell, a senior member of the Armed Services Committee proposes expanding the VA budget by $3 billion.
"The government is willing to fight wars," says Chad Montrie, assistant history professor at University of Massachusetts Lowell, "but isn't always ready to deal with the consequences of them in terms of the human toll."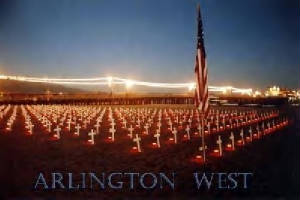 --
It's an old story, going back to the Revolutionary War, when Congress created the first federal pension program, for its veterans. In her 2002 book America's First Veterans and the Revolutionary War Pensions, Emily Teipe, chair of the history department at Fullerton College in California, describes a government that offered service pensions to soldiers in 1781 to avoid desertions. (Four years earlier, the government had stopped paying soldiers for their service.)
Gen. George Washington was a vocal force in support of the pension law, which offered half-pay for life to officers who served. But by 1783, the young American government couldn't pay for its promise. A group of officers in New York refused to disband until they were paid. Washington worked out a deal where they would be paid fully for five years.
"The willingness with which our young people are likely to serve in any war, no matter how justified," said Washington, "shall be directly proportional to how they perceive how the veterans of earlier wars were treated and appreciated by their nation."
Congress passed legislation for indigent veterans in 1818, and for all veterans in 1832. In other words, only those who served nearly a half-century after the war could collect a pension for fighting it. Few did.
World War I produced 5 million returning vets (according to a recent estimate, fewer than 50 are still alive), and in 1924, they were promised a $1,000 payment each. But when the Depression grew worse, 12,000 to 15,000 veterans and their families headed for Washington to demand immediate payment to cope with life in a strangled economy.
They became known as the Bonus Army and set up camp in the capitol, a symbol of shame to President Herbert Hoover. The House passed a $2 billion bill to pay them, but Hoover and the Senate defeated the measure. The veterans continued to live in their shantytown, until two marchers were shot by police, causing riots. Hoover ordered the camp cleaned out, and U.S. troops dispersed the protesters by force.
When 16 million Americans served in World War II, a Lowell legislator, Edith Nourse Rogers, who honored Washington's words and helped provide the G.I. Bill, which the late historian and author Stephen Ambrose once called "the best piece of legislation ever passed by the U.S. Congress." (See related story.)
--
O'Connor, the Tyngsboro agent, connects returning veterans with information to help them.
"But this is a young generation of guys and gals in their early 20s, who want to put the war behind them. They just want to get back to their wives, husbands, families, the comforts they left behind. And 95 percent go back into the mainstream they left, and very few are concerned with looking for any benefits."
O'Connor says benefits have become "progressively better" since he returned from Air Force duty in Vietnam in 1968.
"I came home after 12 months, was 22, and I didn't need psychological help, thankfully. I just wanted to get back to my wife and baby. To get out of my uniform, and back into society."
Coming home from an unpopular war wasn't easy for Vietnam's vets.
"Vietnam was competing for resources with the War on Poverty," says UMass Lowell's Montrie. "It was the guns-and-butter debate. If the war cost so much, there was less for domestic spending."
Protesters spat on troops and greeted them as "baby-killers." Those who protest the current war are careful to support the troops, but not the war they are sent to fight.
"Now, you're seeing Iraq Veterans Against the War and Vietnam Veterans Against The War saying some of the same things," Montrie says. "They're not only upset about the policy of the war, but they say they're not getting what they need when they get home."
O'Connor says that while navigating the benefits system "can be mind-boggling" for the uninitiated, the VA's health-care system is "alive and vibrant."
But "it does need open enrollment."
O'Connor says that a few years ago, the VA "told all American vets, come in, see us, you have a right to VA benefits. But once everybody was in, the system was inundated. There wasn't enough money. So on Jan. 17, 2003, they closed enrollment to new guys, unless they had a specific service-related disability.
"There's a big-time need for in-patient beds, particularly for World War II vets, who have a lot of Alzheimer's and dementia. And housing. Even young vets have a hard time finding housing. Every day, no exaggeration, there's somebody in my office who needs help."
Will veteran-service agencies be ready for the returning veterans of the war in Iraq?
"I think so," says O'Connor. "But PTSD (Post-Traumatic Stress Disorder) is going to be a major thing, I'd imagine. These troops in Iraq, they constantly face roadside attacks. Every time a vehicle drives down the road, you have to be thinking about it. So I think a large percentage of these guys will come home with PTSD."
Dussault, 71, served in Korea and two tours of Vietnam.
"Korea was an altogether different ballgame. We knew Congress was backing us up."
He is less optimistic about the fate of returning Iraq war vets.
"We're not prepared to take care of these guys," he says, "and it's a rotten shame. You think we have homeless now -- we're only at the beginning."
David Perry's e-mail address is dperry@lowellsun.com.



11/10/05
Reaching Across the Years: Vietnam Vets Help Today's Vets Transition to Civilian Life
I've been there and I know what you're going through. That's the message retired Army Capt. Mac McGowan, a patient at the Chalmers P. Wylie VA Outpatient Clinic in Columbus, Ohio, wanted to convey to his young neighbor who had just returned from the war in Iraq.
Though humbly professing to be "not very good with words," the accomplished writer and retired social worker wrote a letter to the young soldier, thanking him for his service and letting him know he had someone he could talk to. Someone who knew what war really looks like, sounds like and feels like years after the final bullets have been shot.
McGowan was an airborne infantryman in Vietnam. He survived the Tet Offensive and countless other battles that didn't earn names or places in the history books. He was wounded and decorated for valor, but his memories aren't always heroic; most, in fact, are tragic.
The simple message McGowan first intended only for his neighbor became much more after he read the letter to his fellow veteran volunteers at the clinic. A match was struck.
That small flame became a fire, forging a team of VA staff, veteran volunteers and local community members who call their efforts "Operation Welcome Home Warrior." The initiative officially kicked off on April 29 as part of the Columbus VA outpatient clinic's annual volunteer services awards luncheon, but by then the work the team does with returning veterans from the global war on terrorism had been underway for nearly six months.
In the Beginning
According to Al Burzynski, public affairs officer at the Columbus clinic, Welcome Home Warrior grew from grassroots issues and friendships to the dedicated volunteer team that operates today. As a new public affairs officer in the VA system, Burzynski wanted to learn more about PTSD because it had been such a hot topic in the media. At the same time, he'd been getting to know the veteran volunteers at the clinic. One of his new friends, Lloyd Davis, a Vietnam veteran who helped start the team, brought McGowan and his letter to Burzynski's attention. He was struck by the message.
"After reading that wonderful letter, I asked McGowan, Davis and their cohorts from the PTSD support group if they would be willing to speak publicly about PTSD to the media, the clinic's stakeholders, city officials and at public meetings," said Burzynski.
Of course, Burzynski had to speak with McGowan's PTSD group leader, Dr. Terry Carlson, about the support group members doing interviews, but through a series of meetings about ground rules and procedures, McGowan's entire support group became interested in sharing their experiences coping with PTSD and making the transition back home after serving their country.
But their interest wasn't so much in talking to the media. They wanted to go directly to the soldiers. Those who would be returning from Iraq and Afghanistan with the disorder were their primary concern.
Rather than being discouraged, Burzynski saw an opportunity in the different focus of the group and decided to make their testimonies an integral part of his presentations to returning troops. Soon, members of the team were with Burzynski at every event he attended.
Operation in Action
When Dan Law returned from combat duty in Vietnam, his then-girlfriend lived out on a country road. Picking her up at night was an ordeal for him.
"In Vietnam, ambushes were sprung when the foliage was right out to the edge of the road," explained Law, now a member of the Welcome Home Warrior team. "I can remember her panicking because in the dark of night I cut my lights and was going about 60 miles an hour. She asked me, 'What are you doing?' and I replied, 'I'm surviving, what's the matter with you?'"
Decades later, a former Marine who had been out of Iraq for more than a year was having similar problems relating to his wife and mother.
"He was acting different, hard, which wasn't the laid-back man we knew," said Sandra Nading, the Marine's mother. Nading wanted to help her son, but when she tried to talk with him, he would get edgy and anxious. He often insisted he was fine, that nothing was wrong. Nading grew more concerned. During a visit to the Columbus clinic for her son's ankle injury, Nading met Burzynski, who told her about the Welcome Home Warrior project.
Burzynski suggested that Nading bring her son in for a friendly chat after his medical appointment. While Nading went to get her son, Burzynski invited one of the members of the Welcome Home Warrior group, Chuck Kalb, to come talk with the former Marine. Kalb was eager to meet the young man.
"My son and I were sitting in Al's office when Chuck walked in the door and said, 'You know, I want to thank you for what you did for your country.' He said thank you, but it was more than that," Nading said. "At that moment I could see something had lifted off my son's chest. In just a short talk, Chuck really pulled a lot of stuff out of my son that he didn't even realize he was holding back."
It's the warrior aspect of Welcome Home Warrior that Burzynski believes gives the operation its high level of success. Returning veterans are greeted by older, yet somehow familiar, faces. They attest that eyes that have seen battle can instantly connect across generations to form a bond and an instant level of trust far beyond what briefings and benefits display booths can achieve.
"VA certainly has wonderful programs and it is the place to go and get help," Law said. "But VA is also a giant system and it can be very intimidating when you first come to it. In the benefit and health care structure, veterans can get the feeling that they are just another number. We provide a face, but more importantly, a story. Our stories will connect with their stories and let them know they have found someone to get them through."
The other veteran volunteers on the team share Law's dedication. The group has already been to several Ohio National Guard and Reserve drills, as well as family readiness group functions, and they are reaching out to active duty members and their families in Ohio through the U.S. Army Columbus Recruiting Battalion's Family Support Group and community relations programs to offer their services. They have visited troops on return trips and at every stop, they give their contact numbers freely to new soldiers and encourage the troops to call them anytime. The group's Web site, www.welcomehomewarrior.org, features a listing of the team members and their contact information.
"Operation Welcome Home Warrior is like a red carpet for us when we get back," said former Army Ranger Eric Allen, one of the veterans helped by the program. "Having someone who knows what I've been through because he's been there too makes the difference. I've fought in Desert Storm and Somalia, but not until I returned from OIF did I encounter something this kind to veterans."
The team's approach is meant to bring a new dimension to the seamless transition concept, putting a friendly face with familiar experiences at the forefront of the VA experience for a new veteran, according to Burzynski.
"It's less intrusive in appearance to have these guys speaking than to have a VA guy simply give a benefits briefing when these soldiers come home," Burzynski said. "If I go up there during an in-brief for returning soldiers and I try to talk about VA, I can always see a little apprehension. But when the words are coming from volunteers who want to be there and are there on their own time to share their stories and show they care, it makes that returning veteran's transition a little bit easier. Having that connection shows them that not only will the VA care for them as an institution, but they will have a whole group of real people they can turn to who will welcome them into the brotherhood of veterans."
The Welcome Home Warrior idea has already shown some of its merit as the volunteer group continues to grow and the positive responses keep bringing new soldiers in.
Burzynski and the team members say it's the personalized attention that makes the difference to the returning troops. Welcome Home Warrior works like a mentoring program. New veterans partner up with a team member and learn how to navigate the rigors of combat stress and make the transition back to civilian life.
"We deal with the soldiers on a one-on-one basis," former Army Green Beret Jim Garvey said. "We get their information and we try to find someone on our team that is a perfect fit for them to partner up with. Obviously, I would make a great companion for a Special Forces soldier or a heavy combatant, but I might not be able to relate as well to a medic as one of our other guys can."
In fact, Garvey shares a special relationship with Allen, who he has taken under his wing. The two combat veterans from different eras periodically meet and speak on the phone.
Warrior Wisdom
The team's veterans hail from all four service branches and a variety of backgrounds, ranging from medics to explosive ordnance disposal technicians. Each has a story to share and listening ear to spare.
"This is good for the troops and it is good for us. We definitely get the feeling that we have some wisdom to pass on to these young people," McGowan said. "We've been in combat. We've been where they are and we have been home longer than they have. We can kind of take them by the hand and lead them down the trails that we've been on, make sure they don't step on the same booby traps we had to trip through going through this."
The "warrior wisdom" the team hopes to pass on to the new generation of returning troops is all about keeping hope, and just as in war, it relies heavily on the battle buddy system. Troops are encouraged to keep in touch with their fellow returning soldiers, not be afraid to discuss events that happened overseas, and seek VA counseling and care. Above all, the troops are encouraged to be careful how they react around their families.
"Whenever I'm milling with the GIs, I ask them if they notice anything different about the way their families react to them," said Davis, team member and former Army sergeant. "It's almost always a yes. I tell them it's not really the people [around them] that have changed; it's the soldier that is not the same. You look at things a lot differently than before you went overseas and got into a combat zone. That really hits home with a lot of troops."
The team is quick to stress they are not trying to pass themselves off as the sole source of help. They tell troops they are not counselors and are not attempting to position themselves as counselors.
"We are not trying to pose as an alternative to VA counsel, but to bring troops into the VA and let them know there is help here," McGowan said. "We get the troops comfortable in the VA setting. When they feel comfortable enough, we point them in the right direction for services."
Burzynski knows what a difference the team is making. He sees examples of it all the time, and he admires what they're doing. "It takes a lot of courage to stand up in front of a bunch of people and share your life story, especially when you are dealing with this kind of condition," Burzynski said of the team. "They make this program really work."
Spreading the Word
Burzynski and the team don't want their successes in seamless transition to be limited to Columbus. They'd like to see Operation Welcome Home Warrior efforts get started at all VA medical centers.
"There was no difficulty in getting this together, and the benefits for VA and these veterans has been amazing," Burzynski said. "We had people that wanted to do it; they were people of action and we got this done. A lot of people ask if there isn't something already like this out there. The answer, to my knowledge, is no."
The volunteer veterans of the team are willing to help other facilities start their own teams. "I think every vet that I have talked to has been willing to do something like this," said Frank Kearney, team member and former Army staff sergeant. "When I got out of the Army it was thank you very much, go figure it out on your own and that was how it was for most of us. We don't want that to happen now and we can prevent it from happening."
The team's mission has resonated just as clearly with those who have already seen the operation's benefits.
"PTSD is a real syndrome and a real threat because we bring it back to our families, workplaces and communities, and they suffer," said Allen.
"The guys in Welcome Home Warrior give me bearing and help me mold my character back to the old Eric that I want to be. They give me assurance that I'm not the only one and there is help, hope, and with faith, I can come out of this. I can be progressive and positive again. I believe that now and I owe it to them."
Burzynski believes the success of the Columbus program sends a powerful message to VA employees, too. "We all share the same mission. That mission is taking care of America's heroes, and whatever we can do to assist in that mission is our basic duty," he said. "Groups like Operation Welcome Home Warrior really help make that mission possible at the personal level. I hope every medical center reads this and wants to start a program just like it."



---
Who Is Best Informed About Returning Vets?
Vets and their families and organizations like MFSO are not alone in this struggle.
Iraq Veterans Against the War
Iraq Veterans Against the War honors all of our fellow soldiers who served and continue to serve our nation, and fights to save us all from this ongoing war based on lies. We work to ensure we receive the care and benefits we deserve. Help us Support the Troops by bringing them home NOW and giving them the medical care they deserve!
Veterans for Peace: Rachel Corrie Chapter 109, Olympia WA
To seek justice for veterans and victims of war
VFP (national)
Members and chapters actively participate in efforts to save VA healthcare and defend of veterans' rights; to protect our civil liberties threatened by the "Patriot Act" and other repressive legislation; to provide counseling through the GI Rights Hotline to active duty military needing assistance; and providing alternative information to counter military recruiters in the schools.
Operation Truth
Iraq War Veterans' Thoughts on Veterans Day The more than 600 Iraq and Afghanistan Veterans that make up Operation Truth salute those who have fought alongside us, those that fought before us, and pray for the safety of those who are currently on the battlefield. But Veterans' Day is more than just a day to give Veterans a parade and a thank you. Veterans Day is about honoring those who have fought in service to this nation. The best way to honor our sacrifice is to take care of our needs and answer the questions we have. To date, all we have gotten from most people in Washington is a bunch of lip service and requests to be window dressing for advantageous politicians. Read More from OpTruth Founder and Executive Director Paul Rieckhoff.
Veterans for Common Sense
Veterans for Common Sense seeks to inject the element of Common Sense into debates over war and national security. In an age when the majority of public servants have never served in uniform, the perspective of war veterans must play a key role in the public debate over national security issues in order to preserve the liberty veterans have fought and died preserving.
---
11/11/05
World of uncertainty awaits many war vets
More benefits today, but job hunt can be tougher
(November 11, 2005) — As Veterans Day events unfold today, 23-year-old Barrett Schenk is in limbo in many ways.

Still recovering from a crushing injury to his leg while on patrol in Afghanistan in 2004, the Marine lance corporal is awaiting honorable discharge at home in Greece. His military service is over for all intents and purposes, but he's not yet a veteran.
Schenk's military and medical status makes it impossible to start on a new career just yet. So he works two part-time jobs while waiting to figure out his future.
There are some certainties. The world Schenk and other Afghanistan and Iraq veterans face as they reintegrate into civilian life is much different than the one that faced earlier generations of veterans. While there are more services for veterans now, finding a good-paying job and getting back on one's own feet independently may be harder because of a rocky economy.
Schenk has already had his first meeting with officials in the Veterans Affairs Department, which attempts to help veterans having trouble — physically or emotionally — fit back into the mainstream. There was no such help when an entire generation of draftees and enlistees came home from World War II.
"They gave me $300 in severance pay, a ticket to come home and took me to the train station," said 86-year-old Edwin Genthner of Brighton, describing the support he got when he returned home to Rochester after serving in the Army during World War II. "We didn't have the counseling they have today."
Genthner, who lost an older brother in the war and saw the tank he drove disabled by enemy fire twice, said he experienced the same post-traumatic stress that drove some of his peers to alcoholism.
Tom Cray, president and chief executive of the Veterans Outreach Center on South Avenue, said, "A lot of combatants will self-medicate, as they feel that is a way to deal with the issues of post-traumatic stress disorder, nightmares and flashbacks."
The most seriously affected combatants of World War II were treated on Army bases until they were deemed mentally stable enough to release to civilian life, Cray said. But most military men and women coming back from World War II hid their difficulties and tried to get on with their lives.
Jobs were plentiful

Genthner said it was difficult adjusting from combat to being a husband and father again. He found some help talking with his family physician who, like him, was a returning vet. But one thing Genthner and his brethren did have was the ability to provide for himself and his family almost immediately. His wife and daughter lived with his in-laws while he was in the military. When he returned, he went back to his pre-war job, as an optical inspector at Bausch & Lomb. Genthner went to Rochester Institute of Technology on the GI Bill, and worked for more than 30 years as a field inspector for Rochester Gas and Electric.
"We won the war, life was good, manufacturing institutions were healthy and alive," Cray said. "People, because of the outcome of the war, really wanted to hire the returning veterans." Lending and educational programs were put in place to give new veterans a leg up.
Schenk's grandfather, Donald "Skip" Schenk, now 77, stayed stateside when he served in the Air Force during the Korean War. When he got out in 1952, he didn't take advantage of the GI Bill, but he was able to get a low-interest mortgage for veterans so he could buy a house right away.
During the Vietnam era, Cray said, changes were made in the GI Bill so that a certain amount of money for education was set aside for each veteran; it no longer covered the entire cost of college tuition at any school the vet chose. The negative reception many got when they returned to a bitterly divided country only added to the other difficulties they faced.
Better reception

Today's returning vets get a better reception.

Schenk said he has received only positive reactions from people who know he fought in Afghanistan. Some have stopped him in the mall to shake his hand. When he wore his dress uniform to attend his girlfriend's college commencement last spring, a restaurant owner wouldn't accept payment for his meal.
"I'm never one to brag about myself. I never wanted any attention," Schenk said. "I did what any good American citizen would do if they could."

Schenk wanted to join the Marines right after high school, but felt his family wasn't ready to accept that. After the terrorist attacks of Sept. 11, 2001, he completed a year at the State University College of Technology at Canton, but felt he needed to act on his sense of patriotism.
"It was plenty obvious that (Afghanistan) was something the country needed to do," he said. He doesn't have the same conviction about Iraq, but he said it's a soldier's duty to follow orders without question.
While patrolling one night, Schenk fell down a mountainside, breaking his elbow and — more seriously — crushing and severing his femoral artery.
"He came very close to not living," said his grandfather. "He was given only a 5 percent chance to live."

Surgery replaced the damaged artery, but months later Schenk's leg started going numb because the synthetic artery had started clogging. Another surgery set back his recovery again. While he originally hoped to recover fully and rejoin his unit, Schenk said after the second surgery it became clear that he wasn't going to be able to handle active duty again.
Schenk, an avid hockey player and hunter, hated the thought of a desk job. When he went with his unit at Camp Lejeune, N.C., to Mississippi to help out with Hurricane Katrina, he had to stay in the rear because he couldn't do any heavy work.
"You never want to be that guy who doesn't do all four years," Schenk said. "You never want to be not strong enough, (the person) who seems weak." After he came to grips with the fact that his health was more important than image, Schenk said he felt better about trying to move on with his life.
New goals

His father, Craig Schenk, redid the basement of his home to provide a place for Barrett to stay while he figured out that future. Currently the young man is working in the pro shop at Lakeshore Ice Arena and coaching goalies for the Greece Thunder high school hockey team.
At the same time, he's looking into colleges where he can get a degree that will help him become a conservation officer. He had planned a career in traditional law enforcement, but with a 30 percent disability thinks he would be relegated to desk work if he stuck with that profession.
How he will pay for his education is still to be worked out — the GI Bill now matches individual contributions rather than paying for a monthly allotment.
When the world was at war, Cray said, Americans understood that the "war effort" didn't just involve what was happening abroad, but also included home front efforts that supported GIs while they were away and provided some financial aid when they returned. Cray said services available now still don't do all that's needed for veterans.
"If people believe the U.S. Department of Veteran Affairs is taking care of that, sadly they are misinformed," Cray said. "What efforts are we putting forth to ensure their successful integration, that they reconnect with themselves, they reconnect with their families, they reconnect with their communities?"
---
Iraq Veterans Need More Than a Parade on Veterans Day
REACTION TO THE PRESIDENT'S SPEECH ON VETERANS DAY
As the head of the nation's first and largest organization for Veterans of the wars in Iraq and Afghanistan, Operation Truth, I released the following response to the President's speech today:
"On Veterans' Day, the President spoke a lot about the reasons for the war in Iraq, but very little about how he plans to take care of the people fighting that war, and what the future holds for them.
"Those of us who fought in Iraq deserve to know why we became Veterans in the first place. On today of all days there should be consensus on the need to rise above partisan bickering over who said what in Washington and begin real investigations into prewar intelligence. It's unfortunate that the President doesn't think he owes that to the people who have been unwavering in their bravery while carrying out his plans."
The Iraq and Afghanistan Veterans that make up Operation Truth salute those who have fought alongside us, those that fought before us, and pray for the safety of those who are currently on the battlefield. But Veterans' Day is more than just a day to give Veterans a parade and a thank you. Veterans Day is about honoring those who have fought in service to this nation. The best way to honor our sacrifice is to take care of our needs and answer the questions we have. To date, all we have gotten from most people in Washington is a bunch of lip service and requests to be window dressing for advantageous politicians. We hope that every politician -- from the President on down -- will finally tell us: Why is there no mandatory baseline funding of the Department of Veterans Affairs? You say you support the Troops, but year after year, the VA is woefully underfunded because funding is at the discretion of Congress and the President. The result has been the agency charged with Veteran care has been continually underfunded by as much as 13-14%, according to the agency's own Undersecretary. The agency does not have enough centers and personnel to properly screen for and treat Post Traumatic Stress Disorder or provide adequate and timely health care. Some Iraq and Afghanistan Veterans are already homeless. There is no system set up to help them. Why has no one been fired for underestimating the VA's funding need by billions? A wave of new Veterans is coming and the VA is not ready. Earlier this year, Secretary Jim Nicholson crawled to Congress with his tail between his legs to admit the agency miscalculated its need by almost $3 billion for the next two years. Who has been held accountable for this foul-up? Has the agency kept a closer eye on the developing need to make sure they aren't caught unprepared, as our Troops return from war? Why did we become Veterans in the first place? On behalf of the Veterans of Iraq, I ask that the question is finally answered: Were we misled into war? We deserve to know. Does anyone have a real plan for Iraq? Many of us who served in Iraq feel there was never a well thought out plan for after the invasion. We never felt there was a clear mission with attainable goals. We are told by many of our friends still over there that there is still no clear mission. Is there an exit strategy that is responsible and practical? Neither Democrats nor Republicans have offered anything on that front. We Veterans do appreciate the accolades and honors we will get today from people across America, and we thank you. But what we really want is to be listened to, and get some answers. Help us make our voices heard. That is the best way to support the Troops on Veterans Day.
---
On the 2,000th US Death in Iraq
By Fernando Suarez del Solar (MFSO member)
t r u t h o u t | Letter
Wednesday 26 October 2005
Yesterday, October 25, 2005, the toll of US fatalities in Iraq reached the significant number of 2,000. On March 27, 2003, just seven days after the illegal occupation of Iraq began, the fifth US casualty (and the second Latino) fell - my son Jesús Alberto Suarez del Solar Navarro. Now, two years and seven months later, we have reached 2,000. 2,000 young people, each with a dream, each with enormous potential, each manipulated and deceived for immoral reasons by the group of powerful men who dragged us into a criminal war. 2000 families destroyed, 4000 parents devastated, with their most precious treasure - their children - torn from them. And who cares? Who cares about these young people who are dying? Only the families care, it seems, since Bush's criminal government continues with its rhetoric about how Iraq is better off and how we will not leave until the mission is completed. What mission? The personal agenda of a ruling clique, because clearly there is no humanitarian mission in Iraq. When I learned that we had reached the awful figure of 2,000, I wept. I wept because the pain of knowing that another young American had died reminded me of my own tragedy and my own pain. I thought about his parents, his mother who must feel the ache in her soul knowing that her son died in an unnecessary war, and his father who, like me, was proud of his son and of his nation. And unexpectedly his nation betrayed him, and his son was gone.
I do not know if Bush in his self absorption and his feigned Christianity understands the tremendous suffering he is causing - the families' anguish, the harm to our nation that he has placed in even greater danger. But I am sure about one thing. Bush will receive his punishment, a punishment that will make him cry tears of blood as my family and 1999 other families are shedding as they remember their lost children.
How much more blood will it take to end this criminal war? How many more Iraqi children have to die? How many more brave young Americans will have to make the ultimate sacrifice? How many more parents will have to weep for their sons and daughters? Who can answer me? Who?
We must demand that the lies and the dying stop today.
End the occupation of Iraq and bring our troops home now.
End the occupation of Iraq. Bring our troops home now.
Fernando Suarez del Solar, father of Jesus Suarez del Solar.