Welcome to Military Families Speak Out
Washington State Chapter
(MFSO)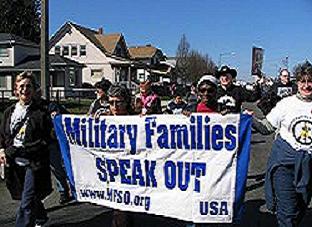 Tacoma, 2006
These are our daughters and our sons.
Stand up for our troops
Bring them home now
Take care of them when they arrive.
Mt. St. Helens prior to the eruption. (Peace before all hell broke loose)
We cannot restore the serenity we once had ... but we can

Bring the Troops Home Now!
Take care of them when they get here.
Military Families Speak Out is an organization of people opposed to the war in Iraq who have relatives or loved ones in the military. Our membership currently includes over 3,000 military families, with new families joining daily. If you have family members or loved ones in the military and you are opposed to this war, JOIN us by sending an e-mail to us at mfso@mfso.org

The GI Rights Hotline
1-800-394-9544
HEADS UP!!! January 2007:
Citizens' Hearing on Legality of U.S. Actions in Iraq

Tacoma, WA, Jan 20-21, 2007

Live Blogging Coverage at Washblog.com - almost verbatim reporting of the testimonies from Daniel Ellsberg, Ann Wright, Iraq veterans; former JAG and Arabic linquist Lt Harvey Tharp, non-commissioned officer Geoffrey Millard, Richard Falk,Benjamin Davis, Denis Halliday.

see more blogger reports of other testimonies at Washblog.com

also visit Citizens' Hearing on Legalility of U.S. Actions in Iraq website for continually updated reports and audio of the 2 days of testimony. You won't want to miss any of these poignant and powerful testimonies.

We intend for the Citizens' Hearing to heighten the discussion of the Iraq invasion and occupation in the public--and within the military itself--as similar tribunals did during the Vietnam War. We are inviting testimony by Iraq War witnesses and experts. Your donation will be used to bring the testifiers and panelists to Tacoma and to record the event so everyone can benefit from the testimony.

The hearing will present the case that Lt. Watada would, if allowed, make at his court martial. His defense attorneys maintain that the war on Iraq is illegal under international treaties and under Article Six of the U.S. Constitution. Further, Lt. Watada's defense argues that the Nuremberg Principles and U.S. military regulations require soldiers to follow only "lawful orders." In Lt. Watada's view, deployment to Iraq would have made him party to the crimes that permeate the structure and conduct of military operations there.

The format of the Citizens' Hearing will resemble that of a congressional committee, employing a dignified approach to gathering information. Testimony will be offered by Iraq War veterans, experts in international law and war crimes, and human rights advocates. Your gift of funds (or frequent flyer miles) will enable more of these clear voices to be heard by people around the country and the world. Among the figures that have committed to testify are:

*Daniel Ellsberg, military analyst who released the Pentagon Papers in the Vietnam War;
*Denis Halliday, Former UN Assistant Secretary General, coordinated Iraq humanitarian aid;
*Richard Falk, Professor Emeritus of International Law at Princeton University;

*Harvey Tharp, former U.S. Navy Lieutenant. Arabic linquist and JAG stationed in Iraq;

*Ann Wright, Retired Army Colonel and State Department official;

*Stacy Bannerman Military Families Speak Out; author of "When the War Came Home"
*Antonia Juhasz, policy-analyst and author on U.S. economic policies in Iraq;
*John Burroughs, Lawyers' Committee on Nuclear Policy executive director;
*Benjamin G. Davis, Assoc. Law Prof., Univ. of Toledo; expert on law of war;
*Eman Khammas, Iraqi human rights advocate (via video).
*Geoffrey Millard, 8 years in NY Army National Guard; stationed in Ground Zero, Kuwait, Iraq.
*Darrell Anderson, Army 1st Armored Division in Baghdad & Najaf; awarded Purple Heart
*Dennis Kyne, 15 years as Army medic & drill sergeant; trained in NBC warfare; Gulf War I.
*Francis Boyle, Professor of International Law at University of Illinois (video testimony)
*Chanan Suarez-Diaz, Former Navy hospital corpsman; awarded Purple Heart & Commendation with Valor.

A panel of citizens will hear the testimony, examine witnesses, and issue a fact-finding report. The panel will be comprised of veterans, members of military families, high school students, union members, and representatives of local governments, academia, and religious organizations. David Krieger, Director of the Nuclear Age Peace Foundation, Former Army 2nd Lieutenant stationed in Hawaii during the Vietnam War, and a member of the Jury of Conscience at the 2005 World Tribunal on Iraq (in Istanbul) will serve as panel chair.

read more at website - Citizens' Hearing on Legality of U.S. Actions in Iraq - www.wartribunal.org
MFSO National Call To Action on Bush Agenda
Bush has spoken - Now it's YOUR turn!
Dear Members of Military Families Speak Out,
We are deeply saddened and outraged by President Bush's plan to escalate the war in Iraq.Yesterday our phones were ringing off the hook with press from across the country and around the world wanting to hear the response of Military Families Speak Out members to George Bush's televised message to the nation. Military Families Speak Out clearly has the attention of the press -- now it is time to move our message directly to the United States Congress.
The next two weeks are critical in the campaign to get Senators and Members of Congress to take action to not only prevent the escalation, but also to end the war. Congress can use their "power of the purse" to cut off funds that allow this war to continue.
Some in Congress are saying they can not "abandon our troops" and leave them "without bullets" by cutting off funds. The reality is that the military currently has funds to bring our troops home quickly and safely, with all the equipment, supplies and bullets they need. If the funding from the supplemental budget approved last fall were to run out, monies currently in the Defense Department budget could be 're-programmed' for use in bringing our troops home.
In the beginning of the war, many in Congress said that they could not oppose the war in Iraq because they needed to "support the troops." It was the voices of military families and Veterans that helped them disconnect "support for the troops" from "support for the war." Our voices are needed now to help them understand that "funding for the war" is not the same as "funding for the troops." We must convince Congress that the best way to support our troops is to de-fund the war, bring them home now and take care of them when they get here.
Congress must now hear your voice! Here's how that can happen:
1. Order and send MFSO post cards to Congress asking them to De-fund the war. You can see the post card
here
, and can order them by sending your address and how many you would like to
mfso@mfso.org
. They are free for MFSO members.
2. Write individual letters to your Senators and Members of Congress. If you can, include a copy of a photo of your loved one. They need to see the human faces of this war! You can find your Senators' and Representatives' names and addresses at
http://www.congress.org/congressorg/home/
, by entering your zip code.
3. Call your Senators and Members of Congress toll free! (These phone numbers go right to the Capital, and you can then ask for you Senators and Member of Congress): 800-828-0498, 800-459-1887 or 800-614-2803
4. For MFSO members with MFSO chapters in their area: connect with your chapter to get involved in local activities; for MFSO members in areas where there is not yet a chapter: join with members in your area for local actions. If you would like to be connected with members in your area, please email
mfso@mfso.org
.
Below is a sample script for a phone call or letter to your Senators and Member of Congress:
Sample script for phone call or letter
I am the [mother/father/wife/brother etc.] of [name of loved one, or information such as "a Sergeant in the U.S. Marine Corps", description of their situation - as much as you are comfortable sharing]
I am strongly opposed to the war in Iraq. [add a personal statement of what this war has done to your loved one and your family.] The recent elections have shown that the American people want us out of Iraq -- we want Congress to listen to this mandate!
I am calling [or writing] you to tell you how important it is that you support our troops by voting against any upcoming appropriation for continuing and/or expanding the war in Iraq. As military families we will stand with all who support our troops by voting to de-fund this unjust and unjustifiable war. We will make sure the American public understands that real support for our troops is de-funding the war, bringing them home now and taking care of them when they get here.
Thank you for adding your voice to those of other military and Gold Star families, Iraq war and other Veterans calling for Congress to take action to end this war.
In Peace and Solidarity,
Nancy Lessin and Charley Richardson
for Military Families Speak Out
WOMEN'S SUPPORT GROUP

Often when service men and women come back from Iraq there are injuries that go beyond the physical. Families must confront that their loved ones are changed in ways that are very difficult for the service person as well as the family. The women whose husbands have been in Iraq face these intensely difficult situations often feeling very alone and without support.
The Women's Support Group is a group dedicated to healing the emotional wounds of these women.
WOMEN'S SUPPORT GROUP
EVERY TUESDAY NIGHT AT 7PM-8:30PM
TRINITY UNITED METHODIST CHURCH
6512 - 23 RD AVE NW
SEATTLE, WA 98117
CALL: PATRICIA SCOTT LCSW
206-361-1314
FREE
Military families applaud Rumsfeld resignation
Statement, Military Families Speak Out, 8 November 2006


Military Families Speak Out (MFSO), an organization of over 3,100 military families who are opposed to the war in Iraq, welcomes the resignation of Secretary of Defense Donald Rumsfeld, one of the key architects of the war in Iraq.

"Donald Rumsfeld sent our loved ones off to a war based on lies, and, adding insult (and injury) to injury, he did it on the cheap - many troops lacked proper body armor, armored vehicles and so much more," said Nancy Lessin of Boston, Massachusetts, co-founder of Military Families Speak Out whose step-son served with the Marines in Iraq in spring, 2003.

"The resignation of Donald Rumsfeld must be only the beginning," added her husband Charley Richardson, another co-founder of MFSO. "Some will try to say that a
change in the management of the war is enough. We say that the war itself must end. We need our troops brought home now, and taken care of when they get here."
---
APPEAL FOR REDRESS by active duty troops.
mail from MFSO mfso@mfso.org on Oct 21,2006
Dear Member of Military Families Speak Out,
Recently a number of active duty Sailors and Marines started a project to give current service members a voice in the call to bring our troops home from Iraq. They initiated an APPEAL FOR REDRESS to be delivered to Congress.
According to their website www.appealforredress.org:
"Many active duty, reserve, and guard service members are concerned about the war in Iraq and support the withdrawal of U.S. troops. The Appeal for Redress provides a way in which individual service members can appeal to their Congressional Representative and US Senators to urge an end to the U.S. military occupation."
The text of the APPEAL FOR REDRESS is short, simple, patriotic and respectful in tone:
As a patriotic American proud to serve the nation in uniform, I respectfully urge my political leaders in Congress to support the prompt withdrawal of all American military forces and bases from Iraq . Staying in Iraq will not work and is not worth the price. It is time for U.S. troops to come home.
This appeal gives current service members a concrete, legal way to let their voices be heard. See http://www.appealforredress.org/php/legal.php for more information about the legal basis for this APPEAL FOR REDRESS.
If your loved one(s) in the military are Active Duty, Guard or Reserves and if they oppose the war in Iraq, please share this email with them to see if they are interested in submitting an APPEAL FOR REDRESS at www.appealforredress.org.
If you or your loved one(s) know others who might be interested, please let them know about the APPEAL FOR ADDRESS. The active duty service members spearheading this project are seeking to collect thousands of APPEALS FOR REDRESS from Active Duty, Reserve and Guard service members. They plan to deliver these to Congress in mid-January, around the Martin Luther King, Jr. Day holiday.
Thus far, service men and women from Norfolk, Virginia; Quantico; Ft. Hood, Texas; Ft. Campbell, Kentucky; several other U.S. bases, and bases in Germany, Iraq and Afghanistan have submitted APPEALS FOR REDRESS on-line.
Iraq Veterans Against the War has sent this information to its membership. Military Families Speak Out is now sending this to our members.
We understand that there will be an article about the APPEAL FOR REDRESS in Navy Times on Monday, October 23rd; and subsequent press events involving the active duty troops who are spearheading and supporting this action.
If your loved one(s)/relation(s) in the service would like more information about this project, we can connect them with the active duty servicemembers who began this project and are currently speaking with fellow servicemembers on bases across the country and around the world about the APPEAL FOR REDRESS.
You can reach us at mailto:mfso@mfso.org
Please be in touch and let us know if your loved one(s) are interested in this APPEAL FOR REDRESS and/or have any questions.
In Peace and Solidarity,
Nancy Lessin and Charley Richardson
for Military Families Speak Out
http://www.bringthemhomenow.org
---
Nancy Lessin, co-founder of Military Families Speak Out, tells the story of a woman whose son was killed on his second tour of duty in Iraq.


Empty Boots Eyes Wide Open: Columbus Ohio




Stacy Bannerman, from Kent, WA, is in Washington DC for summer-long 'Operation House Call'. Stacy at right, wearing cap

Daily Blog from Operation House Call text or click on image.

For Immediate Release: June 19th, 2006

With the Iraq War Putting the Nation's Health in Peril,

Military Families Make a House Call

Military Families Speak Out Begins "Operation House Call" with June 22, 2006 Press Conference

WASHINGTON, DC - On Thursday, June 22 at 10 a.m., Military Families Speak Out will hold a press conference outside the Cannon House Office Building to launch Operation House Call, a summer- long campaign to highlight the damage caused by the Iraq War.

Beginning on June 22, military families with loved ones who are serving in Iraq, those whose loved ones died as a result of the Iraq War, and those with loved ones awaiting deployment or re-deployment will come to Washington, D.C. to call attention to the growing toll of the Iraq war and tell Congress:

"End the occupation, bring our troops home now and take care of them when they get here."

Beginning on June 22 and continuing until August 7 when Congress recesses for the summer, members of Military Families Speak Out will be holding daily vigils, speaking events, visits with Congress and related activities at Congressional Office Buildings.

An on-going display will feature pairs of combat boots representing U.S. troop deaths, and shoes representing the deaths of Iraqi children, women and men. The count will begin from June 15, the day of the 2,500th troop death, when the Iraq War was debated in both the Senate and the House and the majority voted to "stay the course."

New boots and shoes will be added to the display to correspond with continuing deaths in Iraq, highlighting lives lost due to Congressional inaction.

WHAT: Military Families Hold Press Conference launching summer-long Operation House Call campaign; visuals (pictures of family members in the military, signs and banners).

WHO: Members of Military Families Speak Out, including:

· Stacy Bannerman of Kent, WA whose husband serves in the Washington Army National Guard, SFC Mortar Platoon, and served a year's tour of duty in Iraq. He may re-deploy in the future.

· Elizabeth Frederick of Washington, DC whose partner of 4 ½ years is a former Marine who was deployed to Iraq from 2004-2005 with the New York Army National Guard as a combat infantryman. His National Guard unit had not been deployed overseas since the Korean War.

· Elaine Johnson of Cope, SC whose son, Spc. Darius Jennings, age 22, was killed in action in Iraq on November 2, 2003, when his Chinook helicopter was shot down, taking his life and the lives of fifteen other soldiers.

· Mona Parsons of Mt. Vernon, OH whose son is a Sgt in the Army and is currently serving his first deployment to Iraq.

· Al Zappala of Philadelphia, PA whose son, Sgt. Sherwood Baker, was killed in action in Iraq on April 26, 2004. He was the first Pennsylvania National Guard soldier to die in combat since World War II. He was killed in an explosion while assigned to protect the Iraq Survey Group who were searching for Weapons of Mass Destruction long after it was known that there were no WMD's in Iraq.

WHEN: Thursday, June 22 at 10 A.M.

WHERE: 1st Street and Independence Avenue, SE in front of the Cannon House Office Building

Military Families Speak Out was founded by two military families in November, 2002; its membership now includes over 3,000 military families speaking out to end the war in Iraq. It is the largest organization of military families opposing a war in the history of the United States. For more information see www.mfso.org

 

Where to buy the book and Stacy's Home Page

Stacy's Testimony 3/1/06 to the House Appropriations Sub-Committee on Military Quality of Life and Veterans Affairs.

What's New?

The following pages have been updated in the past 7 days

---

Click on either image below for film information

Bring Them Home Now!

(Headquarters) Military Families Speak Out (www.mfso.org)

is an organization of people who are opposed to war in Iraq and who have relatives or loved ones in the military. We were formed in November of 2002 and have contacts with military families throughout the United States, and in other countries around the world.

As people with family members and loved ones in the military, we have both a special need and a unique role to play in speaking out against war in Iraq. It is our loved ones who are, or have been, or will be on the battlefront. It is our loved ones who are risking injury and death. It is our loved ones who are returning scarred from their experiences. It is our loved ones who will have to live with the injuries and deaths among innocent Iraqi civilians.

If you have family members or loved ones in the military and you are opposed to this war join us.

You can call us at 617-522-9323

or Send us mail at:
MFSO
P.O. Box 549
Jamaica Plain, MA 02130.

Criticism of the President is Patriotic

"The President is merely the most important among a large number of public servants. He should be supported or opposed exactly to the degree which is warranted by his good conduct or bad conduct, his efficiency or inefficiency in rendering loyal, able, and disinterested service to the nation as a whole. Therefore it is absolutely necessary that there should be full liberty to tell the truth about his acts, and this means that it is exactly as necessary to blame him when he does wrong as to praise him when he does right. Any other attitude in an American citizen is both base and servile.

"To announce that there must be no criticism of the President, or that we are to stand by the President, right or wrong, is not only unpatriotic and servile, but is morally treasonable to the American public. Nothing but the truth should be spoken about him or any one else.

But it is even more important to tell the truth, pleasant or unpleasant, about him than about any one else."

Theodore Roosevelt, 1918, Lincoln and Free Speech

For details and other information for activities of Pacific Northwest MFSO The following members are available for live and phone interviews, workshops, and speaking engagements:

Lietta Ruger :

Lietta (cell)360-942-9169

Home 360-875-6380

Stacy Bannerman

Phone 253-859-6465