04/24/2007
Last week Lietta reported that our primary MFSO presenter would not be able to attend the 2007 Northwest Progressive Conference at Todd Hall on the WSU campus.
Mr. Fixit then rearranged his vacation and we drove out of town last Friday
morning headed for the Palouse.



Photo from Vanagon Travels, Harald and Nancy Rust As we approached Pullman, Lietta commented to me about a possible strategy of my keeping my expressed opinions mild cause "this is conservative country and there's a flag on every mailbox."
Not to mention that in attempting to be flashy and drive directly to the big farmhouse Noemi found, I dang near got us lost in a rural farming locale on a gravel road with night coming on. After conceding that I might be lost and returning to the main road and driving into Pullman, we called the farmhouse owners, reconfirmed our route and drove right to that elusive farmhouse which is apparently owned by WSU faculty members and is a working enterprise.

Whatever ... the decor and layout of the large two-story farmhouse includes 4 bedrooms - each of which was a large or larger than most master bedrooms in anybody else's
house. It was charming and worth getting lost trying to find.
Noemie was in town eating so I watched the end of a Riddick movie on the dishnet
while Lietta wandered around the house and read farmhouse decorating books sitting on the table.

Next morning we found Todd Hall on the campus and made our workshop presentation to Noemi and a massive crowd of 9-10 people - a small but wiry group of progressive fireballs
I was also struck by the list of conference sponsors which included our MFSO Chapter AND Washblog.
This is Gibney and McRanium territory for sure and I'm even more interested in Dave's and Jimmy's take on Eastern Washingotn and flags on every mailbox.
The list of sponsors however suggests that while WSU's fortress of higher learning might
be surrounded by Republicans, Consveratives and O'Reilly/Limbaugh ditto heads, but where there's progressive smoke there has to be progressive fire.
Check it out:
Sponsors
Progressive Student Union of Washington State University
This is an excellent Myspace site
Washington State University Campus Involvement


Associated Students of Washington State University (ASWSU)


Washington State University Visual, Performing and Literary Arts Committee (VPLAC)


Environmental Task Force of WSU


Sustainability Club of WSU


Vox: Voices for Planned Parenthood at WSU


Art Student Union of WSU


Society of Spoken Word Artists
Campus Progress, part of the Center for American Progress, works to help young people -- advocates, activists, journalists, artists, and others -- to make their voices heard on issues that matter. Through an on-line magazine and student publications, public events, and grassroots issue campaigns, Campus Progress acts to empower new progressive leaders nationwide as they develop fresh ideas and perspectives and seek to communicate in new ways.


- Military Families Speak Out, Washington State Chapter
Membership in MFSO is open to anyone who has a family member or loved one serving, since August 2002, in any branch of our Armed Forces including the Reserves and the National Guard. Also those military members who have returned from serving but remain eligible for redeployment under stop loss.

People who are not eligible for MFSO membership may join our Supporter Group. You are welcome to attend meetings that are open to the public, volunteer to help with event preparation and participate in our community actions and events. Our Supporters provide emotional encouragement and physical help to our MFSO military families who are under extreme stress, especially if their loved one is in Iraq or Afghanistan

Iraq Veterans Against the War
Iraq Veterans Against the War (IVAW) was founded by Iraq war veterans in July 2004 at the annual convention of Veterans for Peace (VFP) in Boston to give a voice to the large number of active duty service people and veterans who are against this war, but are under various pressures to remain silent.

From its inception, IVAW has called for:
* Immediate withdrawal of all occupying forces in Iraq;


Reparations for the destruction and corporate pillaging of Iraq so that ordinary Iraqi people can control their own lives and future; and


Full benefits, adequate healthcare (including mental health), and other supports for returning servicemen and women.

Today, IVAW members are in 41 states, Washington, D.C., Canada, and on numerous bases overseas, including Iraq. IVAW members educate the public about the realities of the Iraq war by speaking in communities and to the media about their experiences. Members also dialogue with youth in classrooms about the realities of military service.



IVAW supports all those resisting the war, including Conscientious Objectors and others facing military prosecution for their refusal to fight. IVAW advocates for full funding for the Veterans Administration, and full quality health treatment (including mental health) and benefits for veterans when they return from duty.

- Heifer International:
Bringing an End to World Hunger Through Unimaginable Blessings

Today, millions of people who were once hungry will be nourished by milk, eggs and fresh vegetables.



Families who for generations knew only poverty will be building new homes and starting businesses.

Children who once headed out to the fields to do backbreaking work will be heading into schoolrooms to learn to read. And people who never thought they'd be in a position to help someone else will be experiencing the joy of charitable giving. How is this possible?
With Heifer's proven approach - almost 60 years in the making - to helping people obtain a sustainable source of food and income.



Shepherd's Grain comes from an alliance of progressive family farms dedicated to practicing sustainable agriculture. Our farming practices have been certified "environmentally and socially responsible" by Food Alliance. We produce high quality products from the crops we raise. In this way, you get the best nutritional benefits. We are also new members of the Whole Grains Council.



- KFRP, Radio Free Moscow


Radio Free Moscow is a nonprofit organization dedicated to the progressive values of peace, justice, democracy, human rights, multiculturalism, environmentalism, freedom of expression, and social change.
Radio Free Moscow operates KRFP, a listener-supported community radio station serving Moscow, Idaho, and surrounding areas. KRFP reflects Radio Free Moscow's values by broadcasting news and opinions, civic affairs, diverse music and other programming seldom heard from mainstream media outlets. KRFP is characterized by volunteer involvement in all aspects of station operation.

Email Radio Free Moscow, Suite 201, 116 E. 3rd St., Moscow, ID 83843
KRFP studio line 892-9200 KRFP business line 892-9300

F-Words
Sarah Anderson was the presenter on liberal blogging. Unfortunately she was competing with Sam Reed's (THE Sam Reed) presentation and nobody else was there cept two techie's with a laptop and overhead projector and me.

I walked in and sat down, gave out the new DinaZina Washblog business cards to Sarah and her staff, and promised to add her to my and washblog's blogroll (got that Noemi?). But then they left to go listen to Sammy.


Washblog.com
Lietta and I pushed blogging hard, promoted Washblog, made repeated references
to McCranium and Gibney, requested articles for Washblog from any and everyone with an opinion - and even gave short but informative (we hope)instructions on what and how to blog to those who asked about blogging and the internet.

I also met Valerie Tarico:



Valerie Tarico - Christian Fundamentalism: A Crash Course for Progressives



TODD 276 10:30 - 11:50 am on Saturday, April 21st
What do American fundamentalists believe?
Where do those beliefs come from?
Are Evangelicals fundamentalists?
What is their relation to the Religious Right and the Religious Left?
Regardless of your background or current wisdom tradition, your country, community and personal life options are being changed by the growing number of Americans who believe that the Bible is the perfect and complete blueprint for living.

What do you need to know so that you can join the public dialogue about faith, moral values, and the future of our society?


Bio: Psychologist Valerie Tarico is an ex-fundamentalist and graduate of Wheaton College of Billy Graham fame. As a young adult, secure in the confidence that "All truth is God's truth," Dr. Tarico committed to follow her questions wherever they might lead.

Ultimately they led her out of Evangelical fundamentalism. Dr. Tarico's book, The Dark Side, examines rational and moral contradictions that caused her fundamentalist world view to crumble. In this book and in her public lectures, Dr. Tarico offers keen, sometimes frightening insight into the beliefs and priorities that drive the Religious Right.

Her compassionate but unflinching analysis offers alternatives that are compatible with love, logic, and our future on Planet Earth.




Valerie knows her stuff. As many years as I've written about the Christian Right, Fundamentalism, Dominionism and Christian Reconstruction, there was nothing I could share with her of which she was not already aware.


What Lietta talked about: For starters, she made a very eloquent comparison of what it is to be a military family with loved ones serving in harms way in a new paradigm where blind loyalty to the commander in chief is no longer the norm. Lietta elaborated on pretty much verything to do with MFSO; a voice of experience where I could see close up the focussed attention of listeners invested in hearing anecdotal stories from her time in MFSO including

Camp Casey in Crawford, Texas with Cindy Sheehan


The Bring Them Home Now tour where she spoke out in all the major cities between St. Louis and Washington D.C. - culminating in the huge 9/24/05 rally in D.C.


What it's been like to speak up and speak out, giving filmed interviews to shows like the Lerher News Hour, Seattle TV and print reporters and telephone call-in shows.
What I talked about: MFSO, a Veteran's attitude, patriotism and patriotic dissent.
Over the most recent weeks, I've remained struck by Richard Dreyfuss talking civics on Bill Maher's Real Time a few weeks back.

I've had similar thoughts about a lack of demonstrated understanding of civics on the part of both young and old. You know, CIVICS: participation, duty and responsibility.


In addition, having learned about and somewhat successfully developed some degree of critical thinking skill only later in my own life, I would also advise that Americans insist that critical thinking courses be mandatory - perhaps as early as possible in elementary schools and as soon as possible to all ages in evangelical sunday schools.
---
Saturday (the day of our MFSO presentation) The 2007 Northwest Progressive Conference appeared to be attended by fewer than 100 people but I consider it a resounding success.

Check out its 3-day agenda. They knew what they wanted to address with a thoroughness quite surprising. I sat briefly and listened to a debate about Socialism vs. Anarchism and followed that up with time listening to a Hispanic sophomore engineering student lead a discussion and play music under the topic "Rock in Espanol." I even joined in briefly when the talk turned to Mel Gibson's recent clash with genuine Mayan descendents who took exception to his cultural portrayal in Apocalypto

Why was it a resounding success? Because those who attended have fire inside, are outraged, courageous and taking a stand where it is more likely to be unpopular
... Where social/intellectual ostracism is a more real consequence ... Where when I went after coffee I encountered an ROTC ceremony nearby with students in camouflage uniforms, a Humvee and a flag that drew a crowd 4 times the size of our group in Todd Hall.

... especially from an intellectual crowd perhaps more governed by op-eds in The Evergreen (school paper) written by the chairperson of the College Republicans. (A student described the republican chairman to me as some barely able to string words together into a coherent statement).


Why was it a resounding success for me


Because in the space of one day I learned more about unaddressed/unblogged state and local issues than a month of reading Washblog.

Accomodations and looking for Gibney

We stayed Friday night at the farm house with Noemi who rented the house only through Friday.

But Saturday night since we felt too tired to start the drive home at 5:00 pm, we signed in to WSU's Stephenson dormitory "hotel".

The dorm was interesting. Been a long time since I lived in a college dorm ... 1964 at West Hall on the Idaho State University campus in Pocatello. (Where I got arrested on Halloween of that year for stealing pumpkins from the local Albertsons to decorate our dorm.)

Our room was on the 12th floor. There was a men's bathroom there but women on the 12th floor unfortunately have to ride the elevator down to the 11th floor for their constitutionals. (Makes you wonder about "accidents" on the elevator don't it?)

I offered to sneak Lietta into the bathroom on the 12th floor and keep watch outside but she never needed for me to do that.


'Twas a little warm so we opened the dorm windows. Dang dorm stands right above the highway to Moscow and some folks just don't seem to be able to call it a night. Some of them need to keep driving around. That road was noisy as heck. Course, in Bay Center, when it gets dark, it also gets pretty dang quiet. Where we live, by midnight you can barely see much by the one or two streetlights (but you can see all the stars you want) and the silence is quieter than a church after meeting. Culture shock for us I guess, even if sleeping in the city on this occasion was a small college town on the Washington/Idaho border.

We dined Saturday night at a Mexican Restaurant (it had "Vallarta" in its name) across the street from Dissmore's Grocery Store. Food was great, the restaurant was crowded as heck (we had to park in the grocery parking lot and cross the street on foot to get in.)

Noemi went back to the conference for an evening speech but got a call from Dave Gibney right before we left for the restaurant. Noemie told us Dave was going to meet her briefly and then join us at the restaurant.



Hah!

I kept one eye on the entrance while we enjoyed outstanding Mexican cousine but never saw him and to this day have yet to meet him.


But a mighty fine campus you have there Dave.


Here's a picture of Lietta's old curmudgeon doing tabling and advocacy.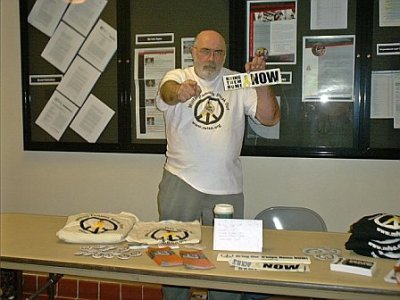 © Arthur Ruger 2007