Harry Lauder Walking Stick
CONTORTED HAZELNUT
Corylus avellana L. 'Contorta'

This unusual European hazelnut was found around 1850 growing in a hedgerow in England. It has been propagated by cuttings and grafting ever since. The plant has become commonly known as "Harry Lauder's Walking Stick" or "Contorted Hazelnut."
The stems and leaves naturally twist and turn as they grow. The plant would normally grow as a sprawling bush, but if it is grafted onto a 4 ft. tall upright stock (Corylus colurna L. is a good non-suckering rootstock) it forms a very ornamental specimen tree.
Our Harry Lauder Walking Stick tree
a mature specimen, 15-20 years old
Walking Stick : This shrub reaches a height of 8'-10', with a similar spread. The flowers of Harry Lauder's walking stick are yellowish-brown "catkins," as on pussy willows. The blooms appear in early to middle spring. However, this shrub is not grown primarily for its blooms but for its unusual branching pattern, which is indicated by its other common names: corkscrew filbert and contorted hazelnut. For as you can see from the picture, its branches contort themselves in every which way, resembing corkscrews.

Sun and Soil Requirements for Harry Lauder's Walking Stick : Grow Harry Lauder's walking stick in well-drained soil, in full sun to part shade.

Care of Harry Lauder's Walking Stick: Being a grafted shrub, Harry Lauder's walking stick does require some special care. The rootstock is Corylus colurna. As often happens with grafted plants, there is a tendency for suckers to shoot up from the rootstock. You must prune off these suckers so that the plant does not revert to the characteristics of its rootstock.

How Harry Lauder's Walking Stick Got Its Name: According to Adele Kleine of "Flower and Garden Magazine," the shrub's "appealing common name derives from the old Scottish comedian Harry Lauder who performed using a crooked branch as a cane."

Uses for Harry Lauder's Walking Stick in Landscape Design: Harry Lauder's walking stick is a specimen plant. The corkscrew shape of its branches lends much-needed visual interest to the winter landscape.

More on Harry Lauder's Walking Stick: Harry Lauder's walking stick is a case in which one may rightly claim that a deciduous shrub truly comes into its own only after its leaves have fallen. Not that the shrub isn't attractive when fully leafed out. But the eye is especially drawn to this curious specimen in winter, when many other deciduous trees and shrubs are little better than sad reminders of a defunct fall and summer.

Harry Lauder Walking Stick, trunk
the contorted and twisted limbs form a garden showpiece
view of the twisted trunk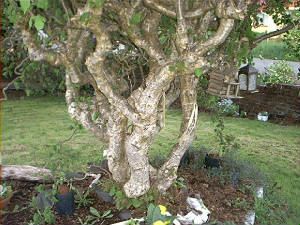 the limbs are corky, twisted and picturesque in winter
What is Harry Lauder's walking stick?

By Chelsie Vandaveer

March 11, 2005

At one time, shrubs and trees were planted to separate fields or fields from roads. These hedgerows divided land in a gracious, idyllic way. They were a mix of useful plants neighbors could share—willows for basketry, berries and nuts. A modicum of maintenance kept the hedgerow, a hedgerow. Wildflowers grew there; birds and small animals had refuge in the midst of cultivated lands. The hedgerow stayed the same and yet it changed with the seasons and the passing of the years.

Sometime in the early 1860s, a curious shrub was noticed growing in a hedgerow in Gloucestershire. It was hazel like the hazels (Corylus avellana Linnaeus) that people had cultivated for hundreds of years. But it was different, its branches twisted and corkscrewed and wept. Not many years after the discovery of the contorted hazel, a boy was born at the north


His father died when Harry Lauder was twelve. He helped his mother support his seven siblings by working in a flax mill while he went to school. Later he worked in a coal mine and it must have been difficult to see the stars when one is in 'the pit'. But he clung to his dream—someday he would be a music hall entertainer.

Harry mixed comedy with music and made laughable, yet touchingly lovable characters for his songs—the stodgy Dame, the red-nosed slovenly Calligan, the kilted tight-fisted Roderick McSwankay.

By 1912, Harry was at the top. He was elected to the Rotary Club of Glasgow and his fame spread beyond England. In 1913, he entertained in America; in 1914, he was in Australia. While in Melbourne, the British Empire entered World War I. Harry's son, John left his father's tour and went to war.

Harry, too old to be a soldier, mobilized to do what he could do best, entertain. And entertain he did. Realizing that those soldiers and sailors maimed by the war would be left in poverty, Harry raised huge sums of money for their pensions. Then Harry did something crazy and the war office fought him on the very idea of it all. He took entertainment to the trenches and battlefields of France.

Harry and Ann never saw their son John alive again. In 1919, Harry was knighted for his charitable works. When World War II broke out, he launched himself into another round of entertaining the troops and raising funds. Harry Lauder died in 1950. Few alive today have even heard his name, but entertainers have kept alive the tradition he started—laughter and songs for soldiers and sailors far from home.

It was Harry's wild character, Roderick McSwankay that made the hazel famous. The decked-out Scotsman leaned on an equally crazy hazelwood cane. The shrub became known as Harry Lauder's walking stick.
Our dog, Jake, sits in shade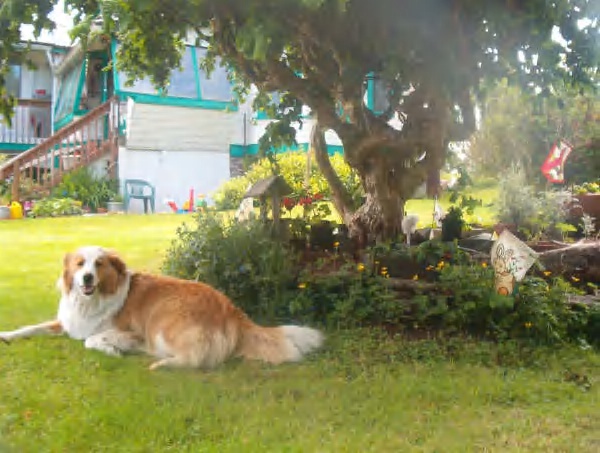 under Harry Lauder Walking Stick 'tree'

May 22, 2005
Another rare find in our yard. And now we must work to save this specimen.
Latin name: Berberis pinnata ssp. pinnata
Common name: California barberry
Family: Berberidaceae (Barberry)
We have a tree that sprouts these astonishing yellow blooms in early spring. It produces berries later in the season, fall. I've thought it a type of holly tree due to it's spiney and sharp leaves. I've just learned it is a barberry variety.

It took a lot of googling to find the specific type, but this is the type that I think it is, Berberis pinnata ssp. pinnata.
It has to be older because it is not a shrub, but a small tree size. My husband is not fond of it, as it was set in the middle of a small raised garden bed with no apparant other plantings. So grass and weeds grow up around it and mowing it is difficult. I've been most reluctant to remove it till I knew more about it.
The beauty of this house and yard with all it's unusual plantings is that many are rare, expensive to purchase and quite mature. So I'm careful to wait and see what is what before pulling up anything. I enjoy this tree for it's vivid yellow blossoms, followed by berries as it brings color in both spring and fall.
It's been loose in it's setting, rather wobbly and wiggly, and it got even more so this year. We talked about moving it to another location and yesterday my husband pulled it out. I set about a computer search for something else and linked my way to finding out this is a barberry, known for it's medicinal properties; known for it's yellow trunk and root which is used to make yellow dyes; and known for it's berries.
I learned that it is now a protected species, due to a program by the US Government to eradicate the barberry species for a rust fungus it is said to have generated that harmed corn, wheat, oat crops. Apparantly not too popular with the farmers. It is not easily found, nor from what I read, easily cultivated or propagated.
So, today, we went outside to try to put the tree back into the ground, and hope that it will foster root growth and live. Being that it likes a woodsy and fire environment, I laid in a lot of the pruning cast-offs from the rhodies and ivy that already grow where the tree was located. We will see if the tree lives, but, I'm not too optimistic. We shall see if the root stump where the tree originally lived will sprout new growth. I covered the stump area with same mulching.
The previous owner, studied to be a practicing physician's assistant and had a practice in this county. He was also trained as a Native American in the arts of medicine man practices. I am guessing he was very deliberate in planting this specimen, knowing it's many useful properties. I am not thinking this barberry grows naturally here nor was easily obtained from local nursery.
I do wish to save this tree, and if we aren't able to do that successfully, then I hope it can regenerate itself and put forth from the still intact buried root a new plant.
BARBERRY
Other varieties include Nepalese Barberry (Berberis aristata), Indian Barberry (Berberis asiatica), Mountain Grape Oregon Grape (Berberis aquifolium)
Botanical Name: Berberis vulgaris
Plant Family: Berberidaceae
Common Names: Berbery, European Barberry, Holy Thorn, Jaundice Berry, Pepperidge Bush, Sowberry
Origin: Found in England, Scotland, Ireland Europe, Northern Africa and the temperate parts of Asia.
History:
Berberis is the Arabic name of the fruit meaning 'a shell'.
Medicinal use of Barberry dates back as far as ancient Egypt, when pharaohs and queens took it with Fennel seed to ward off the plague. In Egypt it is still used for fevers associated with pestilence.
Culpepper states, 'Mars owns the shrub'.
Tradition:
* In Italy Barberry is called Holy Thorn as legend states that it was used in Jesus's Crown of Thorns
Medicinal Parts Used: Bark, root-bark, berries
. Barberries are sourer but less bitter than cranberries. Both the berries and the bark are used for medicinal purposes.
Contains:
The stem, root bark, and fruit of barberry contain chemicals called isoquinoline alkaloids (berberine is a type of isoquinoline alkaloid), which are the main active ingredients of barberry. Laboratory studies suggest that these substances have antimicrobial (for example, antibacterial and antiparasitic), anti-inflammatory, immune-stimulant, fever reducing, hypotensive (causing a reduction in blood pressure), sedative, anticonvulsant, and smooth muscle effects. Smooth muscles line the gastrointestinal tract; therefore, this last effect may help improve digestion and reduce stomach pain. Barberry extracts are standardized to contain 8% to 12% isoquinoline alkaloids.
* albumin
* Berbamine
* Berberine, a yellow, crystalline bitter alkaloid
* fat
* gum
* other alkaloidal matter
* Oxyacanthine
* resin
* tannin
* wax
* starch
Berries:
* citric acid
* malic acid
Action:
* antiseptic [an agent for inhibiting the growth of microorganism on living tissue or destroying pathogenic or putrefactive bacteria]
* bitter stomachic tonic [applied to bitter tasting drugs which act on the mucous membranes of the mouth and stomach to increase appetite and promote digestion]
* febrifuge [an agent that reduces or eliminates fevers]
* hepatic [a drug that acts on the liver]
* laxative [an agent promoting evacuation of the bowels; a mild purgative]
* purgative [an agent that produces a vigorous emptying of the bowels, more drastic than a laxative or aperient]
* tonic [an agent that tones, strengthens and invigorates organs or the entire organism giving a feeling of well-being]
Berries:
* antiscorbutic [a source of Vitamin C for curing or preventing scurvy]
* astringent [a binding agent that contracts organic tissue, reducing secretions or discharges of mucous and fluid from the body]
* laxative [an agent promoting evacuation of the bowels; a mild purgative]
* refrigerant [an agent that lowers abnormal body heat, relieves thirst and gives a feeling of coolness]
Barberry is used for:
Barberry and goldenseal (Hydrastis canadensis) have very similar therapeutic uses because both herbs contain active substances called berberine alkaloids. These substances have been shown to combat infection and bacteria, stimulate the activity of the immune system, and lower fever.
Infection and Skin disorders
For this reason, barberry is used to ease inflammation and infection of the urinary, gastrointestinal, and respiratory tracts (such as pharyngitis [sore throat], sinusitis, rhinitis [nasal congestion], bronchitis and, traditionally, tuberculosis) as well as candida (yeast) infections of the skin or vagina. Barberry extract may also improve symptoms of certain skin conditions including psoriasis, but further studies are needed to confirm these findings.
Diarrhea
Barberry may also be an effective treatment for diarrhea (including traveler's diarrhea and diarrhea caused by food poisoning). A few studies have suggested that barberry improves symptoms faster than antibiotics but may be less effective than the drugs in clearing bacterial organisms out of the intestines. Because of the serious consequences associated with bacterial diarrhea, if barberry is used to ease symptoms, it is best to take the herb along with standard antibiotic therapy for this condition.
use barberry to reduce diarrhea in children. For this reason, barberry should be used with caution in children and only under the supervision of a qualified healthcare practitioner.
Adult
Barberry (as a single herb) should not be taken for more than five to seven days, but it may be used for longer periods if taken in combination with other herbs recommended by a qualified healthcare practitioner. Three to five days is generally sufficient for an upset stomach.
For sore throats, bladder infections, diarrhea, bronchitis, or yeast infections:
* Tea: 2 to 4 grams of dried root steeped or 1 to 2 tsp of whole or crushed berries steeped in 150 mL (approximately 2/3 of a cup) of hot water for 10 to 15 minutes three times daily
* Tincture: 3 to 6 mL (1/2 to 1 1/2 tsp three times daily)
* Dry extracts: 250 to 500 milligrams three times daily
* For skin disorders: 10% extract of barberry in ointment, applied to the skin three times daily
It is important to remember that some infections can be very dangerous if not treated with standard antibiotics. Barberry should not be taken in place of a prescription antibiotic.

Brain and Nervous System Conditions
* produces a sense of well-being
* promotes vigor
Cardiovascular Conditions
* dilates blood vessels
* high blood pressure
Gastrointestinal Conditions
* constipation (larger doses)
* diarrhea
* dyspepsia
* heartburn
* improves appetite
* regulates digestion
* relieves upset stomach,
Immune System Conditions
Inflammatory Conditions
Berries:
* inflammatory fevers, like typhoid
Liver Conditions
* biliary disorders
* biliousness
* functional derangement of the liver
* gallbladder disease
* jaundice
* liver complaints
* secretes bile
Respiratory Tract Conditions
It is used as a gargle for:
* mouth and throat irritation
* relieving pyorrhea
* sore throat
* strengthening the gums
Other Conditions
* debility in general
* intermittent fevers
* reduces fever
* spleen problems
Berries:
* scurvy
Externally Barberry as been used as a lotion/ointment for:
* cutaneous eruptions
Other Uses:
* jelly
* pickles
* the inner bark of the stems boiled with alum will dye linen yellow
* the ripe berries can be used to make jam
* the roots boiled in lye will dye leather yellow
Those using normal and appropriate doses of barberry do not generally report side effects. Cases of nosebleeds and vomiting have been reported with extremely high doses of this herb.
Pregnant women should not take barberry because it may cause uterine contractions and trigger miscarriage.